Research
Home > Research > Research Topics [Performance evaluation of VOC filter masks for people with idiopathic environmental intolerance]
Research Topics
Performance evaluation of VOC filter masks for people with idiopathic environmental intolerance
Volatile Organic Compounds (VOCs), often cause diseases like Idiopathic Environmental Intolerance (IEI). IEI is characterized by a wide range of somatic symptom disorders that purportedly arise in response to environmental triggers. Therefore, preventing VOC intake is very important. Wearing a mask is a daily countermeasure for IEI patients, but there is no national standard for VOCs filter efficiency for masks. Therefore, a common situation arises where mask manufacturers evaluate their mask performance under conditions without airflow to make their mask's VOC filtering appear much higher. Considering breathing airflow rates, we evaluate mask performance with air flow and aim to improve the VOC filter performance. We won the "Best Scientific Poster Award" in the 60th annual meeting of Japan Society for Atmospheric Environment.
Snap Shots

This is a commercially available VOC filter mask. VOCs are collected by activated carbon contained in the inside of the mask.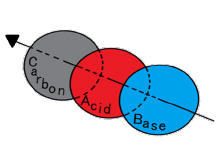 We are aiming to improve performance of masks by using activated carbon filters and acid-base filters to collect VOCs.